In the dynamic landscape of digital content, managing data efficiently and securely is a priority for any organisation. Recognizing this, Microsoft is introducing two solutions at the next Microsoft Inspire event: Microsoft 365 Backup and Microsoft 365 Archive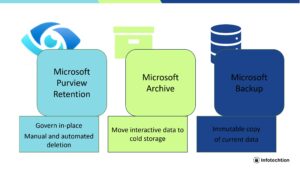 Microsoft Purview Retention: Managing Retention, Preservation, and Disposal
Microsoft retention refers to the set of policies and practices implemented in Microsoft 365 to manage the retention, preservation, and disposal of electronic data and documents within the Microsoft 365 environment. These retention features are typically used to ensure compliance with legal and regulatory requirements, reduce risks related to data loss or breaches, and efficiently manage an organization's information assets.
Key components of Microsoft retention include:
Retention Policies: Retention policies are used to define rules that specify how long content should be retained in the system. They can be applied to various types of data, such as emails, documents, and messages. Retention policies can be customized to meet specific compliance needs, industry regulations, or internal policies.
Retention Labels: Retention labels are used for more granular control over individual documents or items within Microsoft 365. These labels can be manually or automatically applied to content, allowing organizations to classify and retain data based on its importance, sensitivity, or other criteria.
Disposition and Deletion: Retention policies and labels often include actions for disposition and deletion. These actions can include permanent deletion, transferring content to secure storage, or initiating a review process before deletion. The choice of action depends on the organization's compliance and governance requirements.
Preservation Holds: Microsoft 365 includes features like Preservation Holds that protect content from being deleted or modified for a specified period, typically for legal or compliance purposes. This ensures that content relevant to legal investigations or regulatory audits remains intact.
Data Loss Prevention (DLP): Microsoft's DLP capabilities can work in conjunction with retention to prevent sensitive data from being mishandled or shared inappropriately.
Auditing and Reporting: The platform provides auditing and reporting features that allow organizations to track and monitor data retention and access for compliance and security purposes.
Microsoft retention features are crucial for organizations that need to meet legal and regulatory requirements, maintain data security, and establish robust governance practices for their electronic data. By using these retention tools, organizations can confidently manage their data lifecycle while minimizing risks associated with data management and compliance.
Microsoft 365 Backup: Safeguarding Your Data
Cyber threats are on the rise, emphasizing the need for robust data protection. Microsoft 365 Backup offers swift recovery for OneDrive, SharePoint, and Exchange Online data, ensuring compliance and security within the Microsoft 365 ecosystem. Features include:
Full coverage of SharePoint sites, OneDrive accounts, and Exchange mailboxes
Efficient recovery of files, sites, and mailbox items at scale
Precise search and filtering of content in backups
Seamless integration with partner applications for unified protection
Public preview of Microsoft 365 Backup is slated for Q4 this year.
Microsoft 365 Archive: Efficient Data Management
With data volumes growing rapidly, efficient data management is essential. Microsoft 365 Archive provides a cold data storage tier to archive aging data within SharePoint at an affordable rate. Key features are:
Flexibility to archive/reactivate full SharePoint sites
Maintenance of admin-level search, compliance, and security settings
Enhanced content organization and site lifecycle control
Initial release will focus on site-level archiving, followed by file-level archiving in the following year

Empowering Partnerships
Microsoft is fostering collaboration by extending APIs to partners for seamless integration of data management solutions. Partners like AvePoint, Barracuda, and others are joining forces to deliver comprehensive data protection solutions using Microsoft 365 Backup APIs.
A Glimpse into the Future
These innovations mark a significant stride in content management and data protection. As Microsoft 365 Backup and Archive advance towards public preview later this year, businesses can anticipate enhanced security and efficiency.
Feel free to reach out to us at contact@infotechtion.com if you would like more information related to these topics!